The Best & Worst Years Of The Toyota 4Runner
The Toyota 4Runner is a rugged veteran SUV. In 1984, Toyota launched it to replace the aging Trekker, which was as basic as an SUV could be at the time. Granted, it's not a technologically advanced vehicle, but it's tough.
Since it came into the market, the 4Runner has leaned more towards ruggedness and reliability. The Toyota 4Runner is a hit-or-miss vehicle depending on the model year. When it's a hit, it's really a hit. But when it's a miss, it's downright miserable.
This capable off-roader has been on the market for over 35 years, and its purpose is to take the road less traveled. But is it really worth traveling in? What are the best years for the Toyota 4Runner? Which model years are best to avoid?
What Are The Best And Worst Years For The Toyota 4Runner?
The best years to buy a Toyota 4Runner are either models from 1996 to 2002 or 2009 to 2013. Steer clear of the 2013-2015 model years, with 2015 being the absolute worst.
In this buyer's guide, we are going to talk about why these three model years – all from the same generation – are the ones you most need to avoid. But, it's important to note that the Toyota 4Runner is, in general, a very reliable SUV. In fact, sites like Consumer Reports have rated them with high reliability in the last years.
We'll also go over the best years for the 4Runner and what makes them so good. Read on to learn more about these problems.
Toyota 4Runner Best Years
Strong points of all 4Runners include a reliable engine, the 4.0L V6. These SUVs also have rugged, body-on-frame construction, giving them excellent ground clearance.
So, why are these 4Runner models that we've highlighted the best? Because they combine versatility and reliability. From 1996 to 2002, the 4Runner was a step above a basic SUV, which meant there was little that could go wrong with it. Plus, as usual, it had a remarkable off-roading ability.
Although it had a choice of two engines, the best option was the 3.4L V6. This powerplant delivered more power and didn't differ much in the fuel economy department. The 2.7L I4 was a reliable engine but underpowered, especially at highway speeds.
The most expensive models can set you back $7000. But finding a model in good condition is more challenging. So, it's more detective work.
If you want a newer model, then the 2009 to 2013 4Runner is a good option. These are part of the fifth-generation lineup. Since Toyota sticks to what works, they come with the tried-and-true 4.0L V6 putting out 270 hp and 278 lb-ft.
If you're looking for models between these years, you can expect to pay between $21,000 and $27,000. The interior went through upgrades, including Bluetooth and other perks.
Don't expect the vehicle to exude luxury. This SUV still has that adventurer's DNA inside. But, before we get into handling, let's go over how the 4Runner has changed over the years.
4Runner Years To Avoid
The 2013 and 2014 Models
Let's move on now and talk about the 2013 and 2014 model years. Anyone wondering what are the worst years for Toyota 4Runner, here are two of them.
These model years experienced a lot of electrical issues, in particular with the radio freezing up and shutting itself down after the vehicle was running for just 10 minutes.
When this would occur, the doors would fail to lock, especially that all-important rear child safety lock.
This is certainly not what parents of small children are looking for in a vehicle since safety is absolutely paramount.
Another issue reported on the 2014 model year was that the running boards would get stuck mid-deployment when these electrical issues occurred.
If the driver was fortunate enough, these problems would all fix themselves just by restarting the vehicle.
Of course, that was not always the case, and many drivers were left wondering just what was going wrong.
The 2015 4Runner
Here we are at last with the worst of the worst: the 2015 Toyota 4Runner. We'll get into it and what problems Toyota 4Runners have from this model year.
If you pay any mind to reliable sources like CarComplaints.com and National Highway Safety Traffic Administration (NHTSA), then you will recognize this vehicle as a total lemon and steer clear of it.
NHTSA's complaints mean that there is serious potential for road hazards, and a lot of consumer complaints from CarComplaints.com reflect this.
The 2015 Toyota 4Runner is well known for having a lot of interior accessory problems (like the infotainment system freezing up) which carry over from the two previous model years.
Sometimes, the issue would happen just ten minutes after the vehicle had been running and while there was moisture outside. Bluetooth would struggle to work properly, and it often would fail to play music or bring up navigation instructions from the user's cell phone.
The power locks would fail for some drivers. Each door would suddenly have to be manually locked and unlocked.
This would result in a $260-ish repair per power lock actuator… so multiply that number by four, and you have the total cost for parts.
Some engine complaints have been lodged by the owners of the 2015 4Runner. There is a particularly dangerous one that involves the vehicle lurching forward and suddenly gaining speed while driving around at slower speeds.
Some drivers dealt with having no ability to accelerate at all, which made pulling out into traffic extremely dangerous. Even stomping the pedal would not help in all cases.
Some drivers would suddenly lose acceleration too, as the engine would either slow down from driving at highway speeds or just shut off altogether. In a few cases, drivers lost their traction control, which would send the 4Runner into limp mode.
Brake problems have also been reported by those who have owned the 2015 4Runner. For some drivers, the vehicle would shake each time they applied the brakes.
Replacing the brake pads would not fix that issue. Brakes tended to warp way too early on too.
Also, a few people had the brakes totally release twice when they applied their foot to the brake pedal. They would lose all of their braking abilities until the pedals were completely released, and the pressure would then have to be reapplied to the brakes.
Another problem would be that electronic stability control would randomly stop working for no apparent reason. To top it all off, people report a lot of problems with the vehicle's build quality.
The weather stripping and seals tend to come off pretty easily, and the windshield causes rattles and squeaks to occur, especially while driving on rough road surfaces. There is also more wind noise coming into the cabin than what you should expect of a vehicle in this segment of just a few years old.
The paint is also prone to fading more quickly than it should. The rear lift bolts rust out rapidly – a problem that comes with no real fix.
For such a young vehicle, it gets a lot of rust, from the bolts to the tailgate. Toyota knows about this problem and hasn't said a word about actually fixing it, which is frustrating to owners who are already seeing rust spots on their 4Runners.
A Few Dishonorable Mentions
First, we will start with a few honorable – or, in this case, dishonorable – mentions. We have to talk about the 2003-2009 4Runners, which despite their beefed-up power were generally disliked for their style.
This fourth generation of 4Runners is plagued with rust issues on the framework, more so than other vehicles its age. A lot of buyers have also reported cracked or melted dashes.
On the 2003 Toyota 4Runner, there have been multiple reports of the transmission failing to shift correctly when the vehicle is at high mileage (as most of them are). The brake master cylinder often needs to be replaced right at 125,000 miles.
On the 2009 4Runner, there have been issues with the transmission shifting slowly at 15 miles per hour or just straight-up slipping. It also has some issues with clunking coming from the drive shaft.
Also, take note that these model years are notorious for head gasket problems. This can lead to the engine overheating, coolant missing without any signs of a coolant leak, gurgling noises, and white smoke pouring from the tailpipe.
Toyota 4Runner : A Five Generation Round-Up
To understand the best years for the Toyota 4Runner, we must explain how the SUV has evolved over time. Since its launch, there have been five generations. We'll also explain some of the pros and cons of each.
Also, we must highlight that the 4Runner has historically been a reliable car. This doesn't mean that there aren't issues with it, as we'll explain later in the article.
First Generation (1984-1988)
In 1984, Toyota launched the 4Runner, with the internal name N60. At the time, it was a leap forward from the Trekker, but it's basic in today's terms. It only came as a 3-door compact SUV, with either a manual or an automatic option and various engines.
It was a reliable vehicle, with hard work in mind. Also, it shouldn't come as a surprise that it's not the most comfortable drive. But, it makes up for it with impressive off-roading abilities.
These 4Runners come with no airbags, power windows only as an option, and no safety features such as ABS. So, they're not the safest on the road. Finding an N60 in good condition is challenging and, if you do, it's most likely demanding a high price.
Second Generation (1989-1994)
The second-generation 4Runner came out in 1989 as a 1990 model, as the N120/N130 series. It came with a redesigned body and significant mechanical and aesthetic improvements.
The Toyota 4Runner came with an improved coil suspension, but it still had sagging issues. A stronger transfer case allowed for rougher use but was only available with the V6. The inline-4 maintained the older transfer.
In the interior, there was also more room. In fact, this 4Runner didn't come as standard as a three-door version, but rather a five-door SUV. Overall, it was a roomier, more comfortable vehicle than its predecessor. Still, it had a reputation as an unsafe SUV.
While these are reliable and easier to find than the N60, they can still command a high price if they're in good condition. The ideal years to buy one go from 1991 onwards. Look for one that has no rust underneath, as it could be a significant issue.
Third Generation (1995-2001)
The Toyota 4Runner went through a considerable redesign that ended up with the N180, launched in 1995. However, the most critical highlight was the two new engines. These were the 2.7L inline-4 and the 3.4L V6 that the 4Runner shared with the Tacoma.
As you read at the beginning of this article, these are some of the most reliable 4Runners out there. Toyota had flushed out most of the issues in the previous generations, but it still maintained toughness.
Improved suspension and steering made the SUV handle better on the road. Plus, Toyota introduced an on-the-fly four-wheel-drive, so the driver didn't have to get down to engage it.
All these features make these years extremely reliable. Granted, though highway handling improved, the 4Runner isn't the best at this department. So, if you're looking for one, keep this in mind.
Rust is the most common issue with this generation. Therefore, when buying one, make thorough inspections of all possible weak points. Preferably, you should avoid those vehicles from the northern states.
Fourth Generation (2002-2008)
The N210 4Runner came out in 2002 and was a considerable improvement from the previous model. One of the most interesting updates came when Toyota ditched the previous powerplants. Powering the 4Runner were the 4.0L V6 and the 4.7L V8, making this the first V8-powered generation.
These tried-and-true Toyota powerplants are known for their reliability. Yes, they're not the most powerful in the market, but they will eat up the miles with ease.
This generation also marked a significant improvement in highway safety. Historical data has shown that these models are amongst the safest on the road.
The N210 generation is a reliable model (as are all series). Yet, according to Car Complaints, we don't list them as the best years for the Toyota 4Runner because it has shown a marked increase in complaints. Issues include rust and interior problems that can become a nuisance over time.
If you're looking to buy an N210 4Runner, you want to look for the 2008 models with lower mileage, newer safety features, and driver aids.
Fifth Generation (2009-present)
The N280 is the 4Runner's fifth version. It came with two noticeable changes. First of all, Toyota ditched the V8 option, as it proved too thirsty. Also, it included the 2.7L inline-4 as an option, but only in one year (2010) and on RWD models.
With its blocky design, this 4Runner maintains a ruggedness that's less frequent in the SUV market these days. It's still using body-on-frame construction, so it's capable off-road and can take you anywhere.
The powerplant is still the 4.0L V6, reliable but aging. To improve it, Toyota did include VVT-i (and, eventually, dual VVT-i). But the engine feels outdated in comparison to other SUVs out there.
The N280 ranging from 2009 to 2013 are the best years for the Toyota 4Runner, as they have few issues and those that do occur aren't as expensive. The following years are also reliable but have shown to have more problems.
The Toyota 4Runner is a reliable SUV; the numbers prove it.
So, now you know what some of the most essential characteristics of each of the generations are. Still, we must insist that the Toyota 4Runner is, in general, very reliable. A survey by iSeeCars revealed that the Toyota 4Runner is amongst the longest-lasting vehicles out there.
This survey shows the percentage of vehicles that have exceeded the famed 200,000-mile marker. The average for all vehicles is about 1.0%, and the Toyota 4Runner averages 4.1%, placing it fifth overall.
But that's not to say that the vehicle is perfect. We've discussed the details of each generation and have seen what the best years for the Toyota 4Runner are. Now, it's time to dive into some of the pros and cons that this SUV has.
What are some of the pros of the Toyota 4Runner?
The Toyota 4Runner is a rugged SUV made for adventure-seekers and people who love off-roading. So, one of the pros is that it has a body-on-frame construction. This means that the body and engine rest on a frame, giving more rigidity and strength.
The 4.0L V6 is a workhorse. With proper maintenance, it can go for miles on end. Plus, spare parts are available as it's a popular powerplant. So there's more chance of finding any component you need.
Finally, a significant pro to the 4Runner is its reliability. This vehicle can outlast many of the competitors out there, and it doesn't require much. Just constant maintenance and care.
But, as with every vehicle, the Toyota 4Runner has its cons. Let's find out which are some.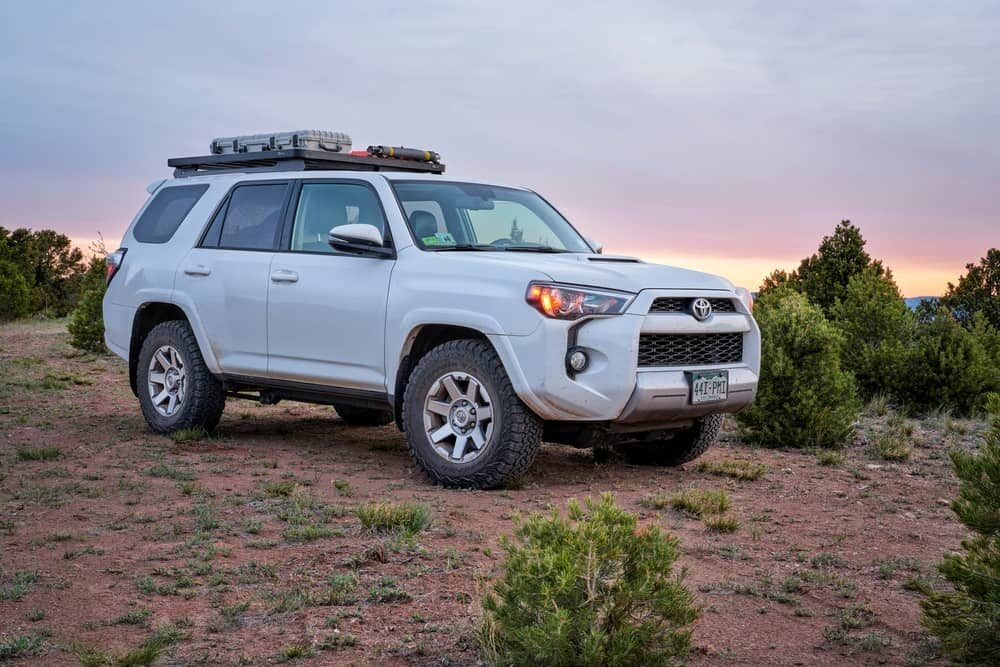 What are some of the cons of the Toyota 4Runner?
The same traits that make the 4Runner a good off-roader hamper it in highway conditions. Since the body rests on a frame, it has a higher center of gravity. This makes for a more unstable ride.
The engine is reliable but, when compared to the competition, lacks power and torque. Plus, since it's not as powerful, fuel economy isn't excellent. The combination of this powerplant with an also dated transmission makes the 4Runner feel clunky.
Finally, there's reliability. Yes, it can be a con. Since the 4Runner can go for miles and miles, this means that most have gone to the moon and back. So, finding used 4Runners that are in pristine condition is more complicated.
Also, Toyota can sometimes have expensive spare parts. So, while you won't be seeing the mechanic frequently, the visits could cost you more than other competitors.
Closing Thoughts
In conclusion, the Toyota 4Runner is a rugged SUV that has been on the market for over 35 years. It is known for its versatility and reliability, with a reliable engine and rugged body-on-frame construction.
The best years to buy a Toyota 4Runner are models from 1996 to 2002 or 2009 to 2013, with the latter having Bluetooth and other perks. These models combine versatility and reliability and are a step above basic SUVs.
The 2013-2015 model years are to be avoided, especially the 2015 model, which has a lot of interior accessory problems, power lock failures, and other engine complaints.
Overall, the Toyota 4Runner is an excellent SUV for those who want to take the road less traveled, and it has stood the test of time as a reliable and rugged vehicle.